Woke up ar 4.00 a.m in the morning and made my way to Baker Street after a warm shower. I reached the pick up point 45 minutes ahead of time and decided to have McDonald's for breakfast. I was privellege to have an Australian couple as company before the coach arrive. They were heading for the Paris trip while I was for Germany.
I boarded the coach which made a last pick up at Lewisham before making its way to Dover for the 9.20 a.m. Sea France ferry to Calais. I took the ferry before on my trip to Brugge with the same tour operator, Anderson Tours. Here are some pictures in the ferry.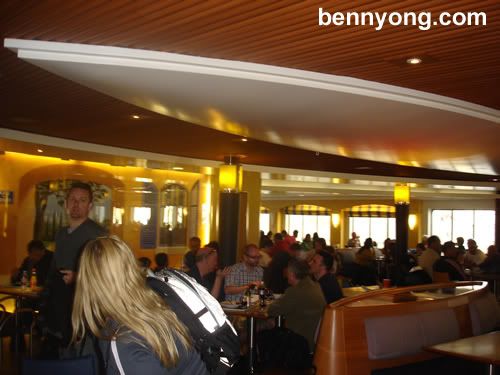 One Of The Many Places To Eat On Board
After the 1 hour and 45 minutes journey on the ferry where I slept most of the time, we continued our journey from France to Belgium and then into Germany. We made two stops along the way for a loo break and this one caught my attention. It cost 50 cents to use the toilet but it was like paying a ticket to get in to watch this self cleaning toilet seat. Watch the video of it as follow:
Back on board, the tour guide started distributing rooms and I was given a free upgrade to a private room by myself as I was the odd one out. It will usually cost an additional GBP60.00 for it.
We soon arrive at our hotel in Bad Salzig. This is a peek into the hostel like room. It was meant for four person with en suite bathroom and a TV that was not working.

The Corridor Leading To The Rooms
Dinner was included in this trip and there was a complimentary 3 hour bar running with local beers, wines and soft drinks. The dinner was three course and it started with a soup, pasta and ended with a fruit cocktail.
Dinner was the perfect time to socialize and since I was travelling alone, a good time to be in a group. I went for a walk along the quiet streets before heading straight to bed. The main road was so dead that you literally can sleep in the middle of it.
Read on for my exciting adventures!
Cheers!