I can't believe my time in Rhineland has ended and it was time to bid farewell and move on to the next stop which is
Ghent
. It is the 4th largest city in Belgium and is heavily populated by students.
The journey from Bad Salzig, Germany to Ghent in Belgium took near to 6 hours due to the mixed traffic conditions. Funnily enough we went through the Netherlands to get to Ghent which made our trip officially 5 countries (England, France, Germany, Netherlands & Belgium) in three days
Once we arrive at Ghent, everything was worth the journey. Here is a slideshow of the pictures that I have taken.
My favourite building of all in Ghent has to be St. Nicholas' Church. It is just the roof top that caught my eyes.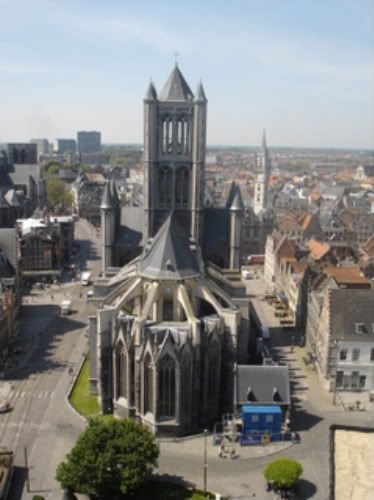 St. Nicholas' Church.
The Cloth Hall And Belfry
We made our way to the top of Belfry with a combination of steps and lifts. Entry ticket costs 3 Euros. It gave us a magnificent view of the city although it was a tight squeeze at the top.
Top Of Belfry
Inside Belfry
After Belfry, we countinue our walking tour of Ghent. Although equiped with a map, I just followed the pack and after countless of nice buildings, we ended up at the Castle. Due to the time constraints, we decided not to go in.
Castle Of The Counts
The must eat street food in Belgium are waffles and their Fritz (Chips or French Fries). The place we found offered us sauces with names such as Cocktail and Samurai. I went for fries with the Cocktail sauce simply because it tasted good.
Enjoying Fritz (Fries) with Cocktails Sauce
Waffles from An Australian Place. Doesn't Sound Right!
The fun weekend was coming to an end when we started out journey back to Calais for the return ferry. As we arrive ahead of schedule, we stopped at this place called Cheers whereby alcohol are sold at a cheaper rate. It is like a warehouse/hypermarket with booze.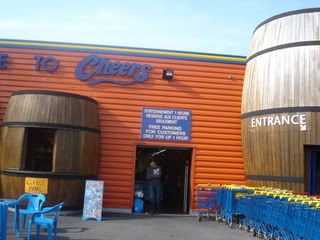 Cheers in Calais
I reached back in London just before 11.00 p.m. which gave me ample time to rest before the going to work the next day!