It is quite uncanny for a club to be situated on the first floor of a shopping mall but we were at Scarlet in Cineleisure for
Song Yia
's farewell. Most of you might have known that she will be relocating as well but to Hamburg. I took the liberty to kind of crash the party and made it my farewell as well. This is very well justified as I have valid reasons which includes me being invited there and I am leaving on the same date.  It was no harm having a few drinks to my move in Southampton as well. (Look at how I stole the limelight of Song Yia's party!)
It was nice to see the turn out and due to the graphic nature of the pictures taken during the night by our in house paparazzi, Angie, I was only able to share the following two pics out of over 250 that was taken. I have to take this seriously because I am certain that the peeps in those picture will abandoned me if I ever post it over the net.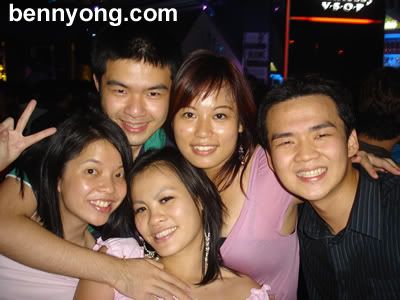 With 50% of Song Yia's Existing Team
Cheers To An Exciting Year!
Well, I got to catch up with my long overdue packing. I am sure that I have packed everything yet I believe I am missing out some stuff but do not know what!!!
Till my next post. Take care!
Cheers.