I rarely get invited to weddings nowadays. This could be because of my consistent turning down of invitation that I eventually have the "why bother� response whenever anyone is considering my name for the guest lists. Don't be that quick to judge me, I am sure I have valid reasons for all the NOs I uttered out last year.
Anne is a teammate of Song Yia's and a colleague at work. She has always been very helpful in the office and I am glad that she is finally getting married after seeing her getting so stressed out for the preparations.
Besides being invited for Anne's Wedding, this is the first time ever someone has asked for my help in their wedding and I just could not refuse. We were told to register the guests as they come in for the wedding reception. Although it was not much of help, every little counts.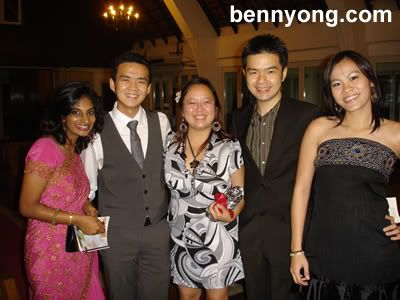 Posers in the Church
The church wedding was conducted at 4.30 p.m. in St Mary's Cathedral just opposite Dataran Merdeka. I never knew there was a church there to be honest.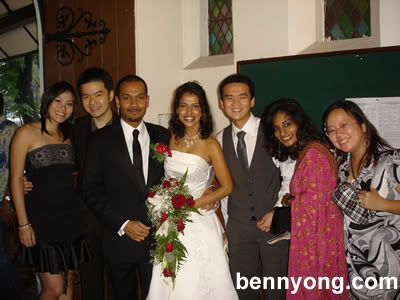 With Anand and Anne, the bride and groom
After the ceremony, it was raining cats and dogs. We however manage to brave through the weather to arrive at Holiday Villa Subang for the dinner. It was held at the Victorian Ballrooms. I was there last time for a close family friend's 80th Birthday.
The Entrance of Victorian Ballrooms
We soon arrange ourselves and were taking care of the registration. Although we were not the most professional bunch, at least we had fun!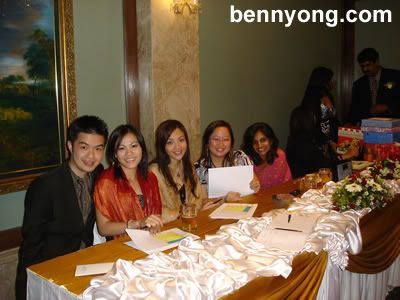 At The Registration Desk
Once the dinner started, we all joined the guests in hall. There were performances by the bride's friends which gave the wedding a very personal touch.
Another thing, I finally used
photobucket
to host all the pictures because flickr was down at the time of posting.
Cheers!